Finish.
The word "finish" carries such a powerful meaning.  It implies completion of a task. It brings something to an end.
God the Father talked about how He finished things:
"Heaven and Earth were finished, down to the last detail." ~Genesis 2:1 MSG
"What's more, I am with you, and will protect you wherever you go, and will bring you back safely to this land; I will be with you constantly until I have finished giving you all I am promising." ~Genesis 28:15 TLB
Jesus was the ultimate example of someone who knew how to FINISH things. He fulfilled His mission of showing love to all humanity and satisfying every requirement of the Law on our behalf. He did as the Father had asked Him to do– He brought grace and truth. Jesus said it Himself, "It is finished" (John 19:30). Because He finished strong, the salvation process is complete, once and for all.
And now, Holy Spirit lives within every believer so that we too can fulfill our God-given mission and finish strong.
For the last half of 2014, I've been concentrating on one F-word each month. It all began in December 2013 when I felt as if I wasn't focused enough on important things so that I could finish them. I attended a retreat in January 2014 where I realized there was an F-word I needed to eliminate from my life: FEAR. This retreat helped me to key in on the things that mattered most to me and to know that I was already empowered by God to "get 'er done." One of the exercises at the retreat was to write a word on a smooth stone that reflected what I wanted to do in 2014. My word was "FINISH." I wanted to finish strong in 2014!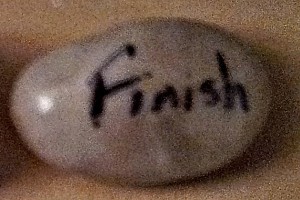 During the first six months of 2014, as I worked to eliminate the fear, I was able to FINISH a huge goal– plan and host a retreat for women who were struggling with infertility. The retreat resulted in establishing a relationship with one of the attendees that has been such a blessing because she is now pregnant! As a result of her pregnancy, I am now writing a book specifically crafted for women who have overcome infertility. There's a difference in the experience in the overcomer's pregnancy versus that of other women who did not have that struggle. This book will provide the encouragement needed to stay focused on God's words of love and to FINISH the pregnancy. I'm so glad that I finished hosting the fertility retreat and am moving forward in finishing the book.
As I've done in previous months, I wrote my thoughts about this month's F-word on an index card so I can keep it in front of me on my desk: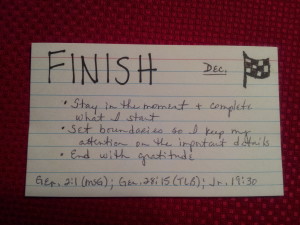 So as 2014 draws to a close, I'm thankful for all that God has brought me through this year and empowered me to finish. I'll host another fertility retreat in May 2015  (I hope you'll join me) because I'm even more confident that when He gives us a vision, He also gives us the provision to FINISH.
What is one thing for which you need His provision in order to finish strong?