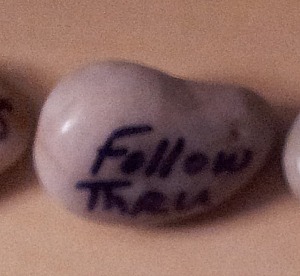 Earlier this month, I shared that I want to follow through on the things I need to do, for myself, my family and for you. This is a component of my effort to finish strong in 2014.
September is more than half over so I thought I'd let you know how things are going for me.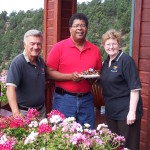 I followed through on surprising my husband for his birthday with a trip to the cool pines of Payson, AZ for a weekend. He loved it! It was worth the torment of wanting to tell him all about the plans I was making but not being able to so that I could wake him up and say, "Pack a bag! I'm taking you away for the weekend." It was our first time staying at a Bed & Breakfast. The Falcon Crest B&B was wonderful and the owners, Al and Linda, made it a very special time for us with their hospitality. As you can see, Linda baked a birthday cake for him!
Another big item that I needed to get done in September was my iHope Fertility Game Plan Teleseminar. I hosted the call on last Saturday. It was thrilling that over 35 people signed up for the call! If you were one of those ladies, I hope you got lots of encouragement.
On that call, I invited everyone to checkout my new online course, 50 Days of Unleashing Fertility Hope. To get the details about your opportunity to decrease the stress of infertility and increase your hope, click HERE.
Planning this course has been a joy for me because I know that it will help those who choose to use it.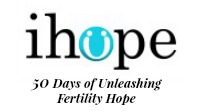 I hope that you'll see the benefit of taking advantage of this opportunity to:
Decrease the level of stress you experience everyday using specific tools I'll share
Incorporate a daily strategy that can help you put worry on the run
Remove doubt caused by infertility's mind-chatter
Anchor yourself in hope so you don't give up
Focus on receiving the promised benefits of God
I'm SO glad I followed through on this desire to bring a course to you that you can access 24/7 AND have the opportunity to have weekly coaching calls.
Right now, I'm about to follow through on getting a few smaller things checked off of my To Do list (like washing the dishes).

Praying that you've been able to do some follow through, especially on things that are important to you.
On what one thing that you still need to follow through?